Here are the shows :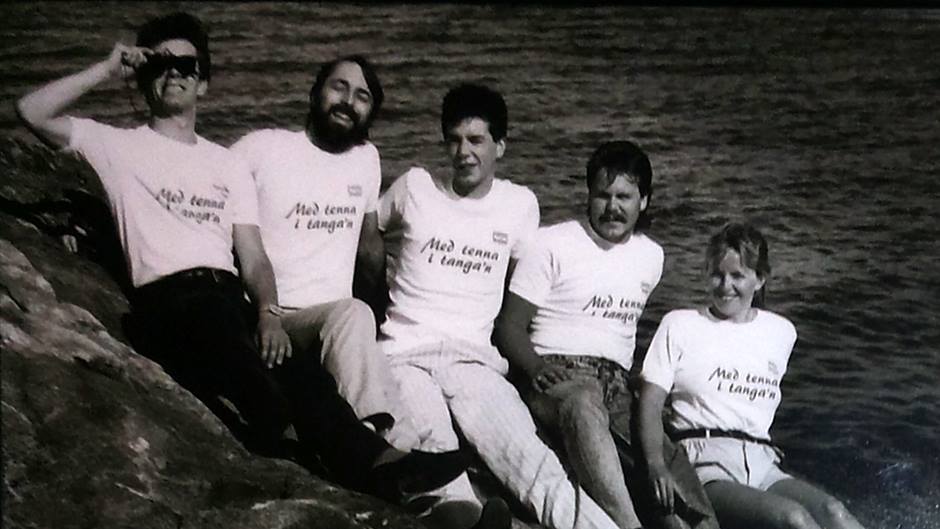 "LUKTEN AV TANGA"
-The Scent of Tanga
(Get some fart on Kristiansand)
Opened on June 13th. 1996! and closed July 20th. 1996
We'll be back. Perhaps next year, if you'd like .

Dagbladet wrote: Signs leading to this location should be put up outside Oslo!
(Five out of six possible scores!)

---
| | |
| --- | --- |
| | The Tanga crew: |
| | Rune Andersen,- attained nationally celebrety-status within the comedy genere. |
| | Knut Nærum,-also nationally known through the weekly TV-comedies, where he writes a lot of their material. |
| | Kjell Hjelmerud,- now entertaining himself by running the student welfare-center "Vaskeriet". |
| | Sigrid Bjørnaali,- currently back in business from a maternityfling. |
| | Ole-Bernt Kristoffersen,- well known from the theater-scene in Kristiansand. "If it's there, he is there too!" |
| | The band: |
| | Dene O'Neill, drums, Rolf Kristensen, guitars, Svein Schulz, bass, and Vidar Bøe, keyboards |
| | Director: Alex Scherpf ( executive head of the Beaivváš theatre) |
| | |
---
The following persons announced their presence:
Ole Paus, Jonas Fjeld, Rita Westvik, Grete Knutsen, Else Michelet, Toffen Gunnufsen, Vidar Theisen, Per Ståle Lønning, Karl Glad, Svein Olaf Olsen, Yngve Haagensen, Haakon Lie, Mulder and Scully, Elvis Aaron and Heinz (the local butcher-chef), to mention a few. How about you ?? Did we see you in the dark ??
A 100 minutes with a bullet! Was played 22 evenings with a full house every nighy. Success !!

---

!
And the show was, (in norwegian)
Olsen
Turistdirektøren i egen høye person viser oss rundt
Alle
Lukten av Tanga
En åpningssgang som alle andre åpningssenger
Alle
Samfunnsrefserne
Litt frisk meningsbæring
Knut og Kjell
Panel
En debatt
Rune
Tenk om alle bare kunne sankke sammen
Så mye bedre ahdde ikke verden vært ??
- takk til musikkskolen for blokkfløyter-
Alle
Flyttevalsen
Rokkeringsgalskapet forsøkt satt i system
Kjell
Absolutt sanseløs
Rita og Grete har seg
Sigrid, Knut og Rune
Jeg blir så glad
Litt sanglig slemhet
Kjell
Vold nytter
Forsøk selv
Rune og Kjell
Nynnesangen
Et søtt moment
Alle
Nytt under solen
De evindelige nyhetene, på vår måte
Knut
Kugalsskap
Restaurantbesøkene blir aldri som før etter dette
Sigrid, Dene, Kjell og Rune
Toffen
Wått det føkk du ju want me to do med det då
Knut
To rustne herrer
Ole Paus og Jonas Fjeld i duett
Rune
Seksuelle fantasier
Unnskyld at jeg er litt opphisset, men jeg har vært i Grimstad ! (?)
Knut
Jeg er rik
En rocka sang som bare blei sånn
Kjell
Heia !
En publikummers bekjennelse
Rune
Temmelig Hemmelig
X-files, Elvis og overvåkning i ei suppe
Alle
Det er vår jord
Endelig en slutt-sang uten ende
Alle